2021 Winner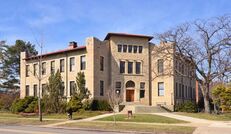 Severance Hall Roof Renovation
Oberlin College & Conservatory
Nominated By: RoofTEC, Inc.
Welcome to the Resources page (CLICK HERE) of the Ohio Valley Chapter IIBEC. The purpose of this page is to provide resources that advance roof and building enclosure competency through shared knowledge.  The Chapter leadership believes that this address the IIBEC mission statement, which is
"To advance the profession of building enclosure (roofing, waterproofing and exterior wall) consultants. "
Whether you are a building owner, a design professional, a contractor, supplier, or  member of the concerned public, the Ohio Valley Chapter of IIBEC wants to provide you with information and insight to help you achieve your goals.
We hope the resources provided here help you achieve excellence and sustainability in the built environment.
Dave Wyatt
Education Committe
June 2020
COVID-19 Survey
IIBEC wants to know how COVID-19 has affected you professionally.   Please take a moment to complete the below survey so we can gain a better understanding on what we can do best assist our members.  https://www.surveymonkey.com/r/D79V3NF
COVID-19 Resources
Please note, IIBEC has put together a cache of information and resources pertaining to the COVID-19 outbreak that pertains to everything from small business loans, public health information, and state-by-state coronavirus construction status updates.  We hope that this collection of information serves as a useful tool during these unprecedented times.   https://iibec.org/iibec-members-covid-19/
Exterior Wall Technology & Science Course (16 CEH Available)
Register now for our virtual presentation of Exterior Wall Technology & Science taught by Sr. Director of Technical Services Emily Lorenz.  This class will take place over the course of 8 weeks, delivered in 2 hour sessions each Thursday, starting April 30 through June 18th, delivering 16 CEHs.  https://iibec.org/iibec-events/exterior-wall-technology-science-5/